Strongback self propelled wheelchair (TGA)
A high quality lightweight self propelled wheelchair.
The first lightweight folding wheelchair to offer effective everyday posture support. An award winning Swiss design made with both the wheelchair occupant and the carer in mind.in comfort and style. The Strongback wheelchair has also been designed with the carer in mind, folding in a matter of seconds and requiring minimal storage space. The backrest folds completely flat against the frame, as do the footrests which easily fold and lock out of harms way, no need to detach as per traditional wheelchair design. The push handles are spaced wide apart to offer the correct stance for maximum control when pushing. Puncture proof tyres and attendant controlled brakes finish off the impressive specification.
Pioneering ergonomic backrest for improved posture and comfort
Delivers better support for most users without bespoke adjustments
Easy to fold and carry
Lightweight - only weighs 11.3kg
Quick release wheels
21 stone user weight capacity
Compatible with all TGA Powerpacks
Choice of different seat widths (Please specify 16" or 18" wide seat).
Optional 20" seat width available.
Two year parts & labour warranty.
Product Number : EM-STRONGBACK SELFPROPELLED (16, 18 or 20" inch wide seat)
Eastern Mobility Price £445 (16" & 18") £475 (20")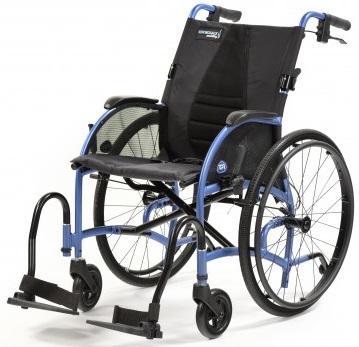 Click here for brochure, See page 4 to 9
Strongback Video