Pride GoGo Elite Traveller Sport
The Pride Go Go Sport delivers high performance and excellent manoeuvrability to offer a terrific compromise between indoor and outdoor mobility scooters. With a longer platform designed to improve comfort for taller users and wider tyres with extra traction for outdoor terrain, the Go Go Sport is packed full of premium features. The Go Go Sport is designed for convenience on-the-go. Tool-free disassembly allows you to break the scooter down into lightweight and easily managed parts that will fit neatly into the boot of your car. And when you reach your destination, the Go Go Sport can be reassembled in no time at all. The off-board charging feature means you can conveniently store the scooter in your car or in a garage or shed while you charge the 20ah batteries. Alternatively you can leave the scooter assembled and charge the batteries by plugging into the XLR port located in the delta tiller bar. With the LED display you'll always know when the battery is running low, though the 14 mile range means you won't be charging often. The Go Go Sport delivers unbeatable agility wherever you use it. The wraparound delta tiller bar offers responsive control even for less nimble-fingered users, while the tight turning radius of just 128 cm will help you to navigate even the most limited of spaces. The speed control knob is conveniently located on the tiller bar too.
Other features of the Pride Go Go Sport include:
An easy-to-remove front basket with handle.
An integrated, adjustable LED headlight for safety in low light conditions.
Two shroud colour options.
Product Number : EM-PRIDE GOGO ELITE TRAVELLER SPORT
Recommended Retail Price £1899

Eastern Mobility Price £1395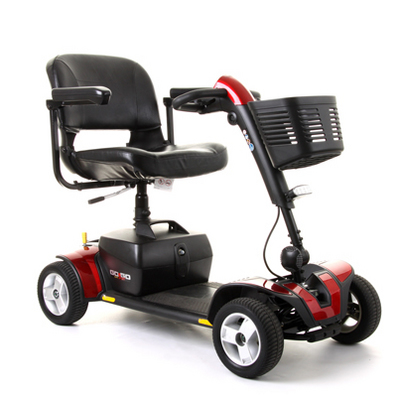 Click here for brochure pdf