Pride Apex Rapid
With a sleek design and a wealth of terrific features, the Pride Apex Rapid opens new doors in the travel mobility scooter market. As the first scooter of its class to offer an all-round suspension system, you'll find comfort and convenience at the forefront of the Apex Rapid's excellent design. With Pride's advanced Comfort-Trac Suspension system implemented at both the front and rear of the scooter, the Apex Rapid makes long journeys comfortable and effortless. Where many travel scooters offer little protection against rough and uneven terrain, this scooter dampens the vibrations transferred through the frame of the scooter to make for a relaxing ride every time. Despite the assortment of features on offer, the Apex Rapid still represents a highly portable and convenient scooter. The feather-touch disassembly feature allows you to break the scooter down into five pieces with just one hand, and with the heaviest part weighing just 16.6 kg (2st 9lbs) you'll find it is safe and easy to slot the Apex Rapid into the boot of your car for day trips. And the off-board charging feature means you can conveniently leave the scooter in the car or store it in a garage or shed while you charge the 20ah batteries. Alternatively, just plug into the XLR port located in the delta tiller bar and don't worry about removing the battery box. The Apex Rapid is a truly agile mobility scooter, capable of navigating limited spaces like supermarket aisles and pavements with incredible ease. The microprocessor-based controller also offers high-performance power management as well as a whole host of additional safety features.
Other features of the Apex Rapid include:
A wraparound delta tiller bar that is both comfortable and simple to use.
A rotating seat capable of bearing a weight up to 136 kg (21 st 6lbs).
Black, solid non-marking tyres.
An LED kerb light for safety in low-light conditions.
Product Number : EM-PRIDE APEX RAPID
Recommended Retail Price £1899

Eastern Mobility Price £1395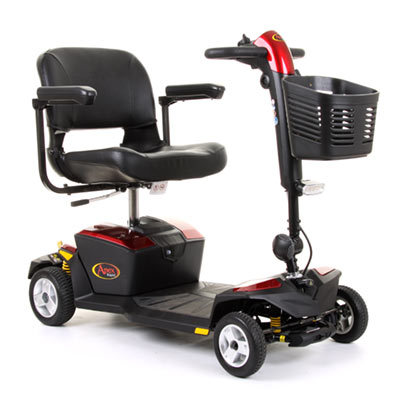 Click here for brochure pdf