Pearl (Sunrise Medical)
Always on the move? Don't forget to take the Sterling Pearl along for the ride.
The Pearl quickly and easily disassembles and packs neatly away for storage, days out or simply to take to the shopping centre - giving you the versatility to bring your scooter wherever you want to go. Its wireless connections and lightweight parts ensures you won't struggle getting it in and out of the car. Range per battery charge is up to 15 miles at a brisk 4mph, so the Pearl is ideal for both short trips or longer excursions around town. The controls are simple to use and the tiller can be adjusted to suit your driving position. The flip up armrests and swivel seat helps you access your scooter with ease whilst the padded seat always ensures a comfortable ride.
Product Number : EM-PEARL4RED
Recommended Retail Price £1995

Eastern Mobility Price £XXX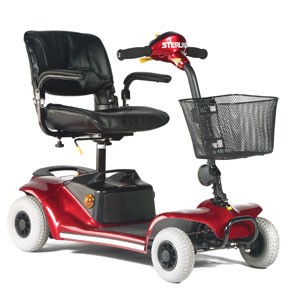 Click here for brochure pdf